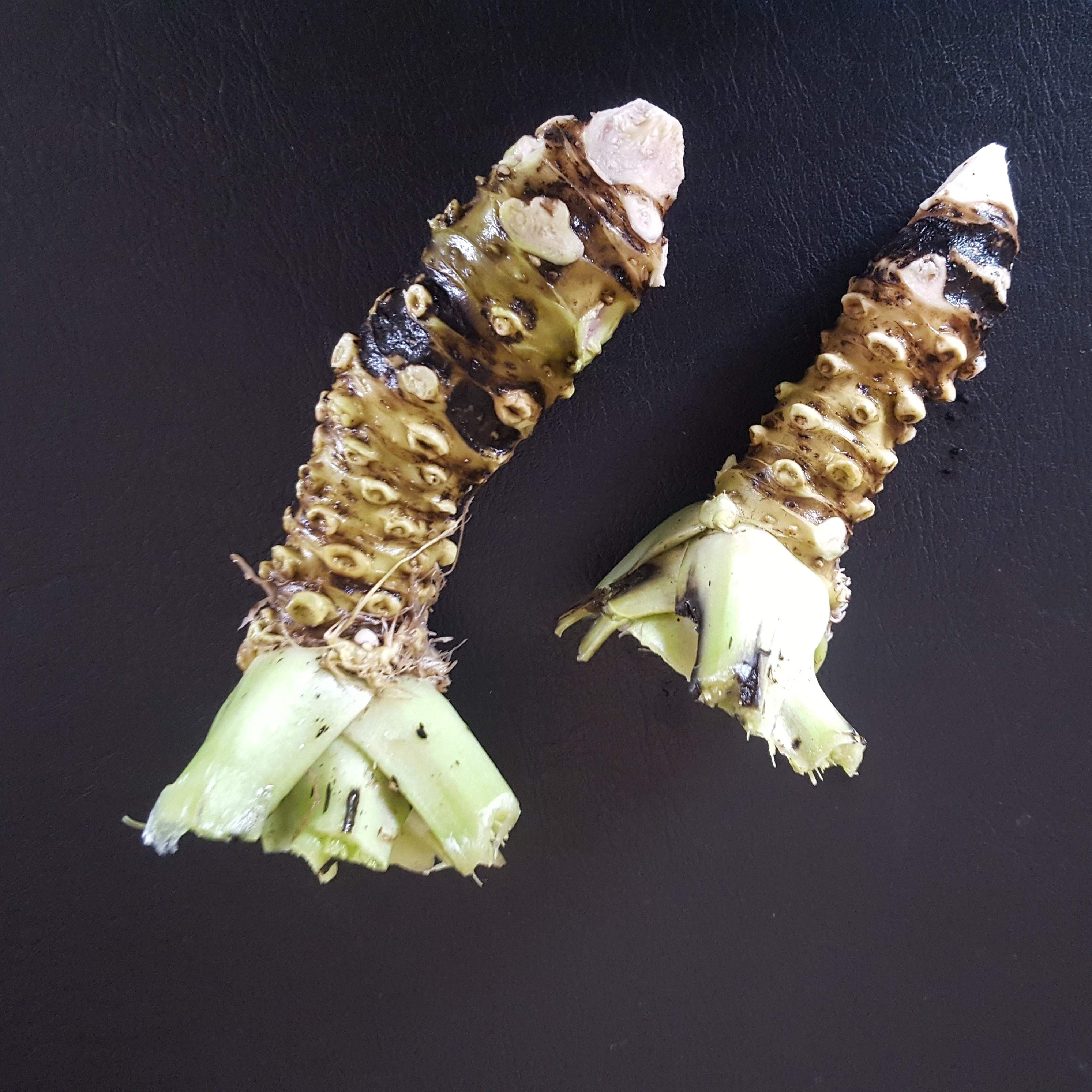 Ordering Fresh Wasabi Rhizomes
£ 12.50
Prices will start from £12.50 per 50 grams of fresh wasabi rhizome.
The Wasabi rhizome will be dispatched trimmed. Most rhizomes are approximately 50 grams in weight up to 80 grams and the weight will not affect taste. However, if you are looking to order more than 500 g of fresh wasabi rhizome please get in touch.
At Wasabi Crop we harvest the rhizomes to order, so they are always at their maximum freshness for you to grate. The rhizomes are grown in pea shingle 'mineral' gravel beds enriched with nutrients from the added agricultural soil and the rhizomes can take up to 2 years to reach maturity. On receipt of your rhizome just grate it on a sharkskin grater to give you the delicious wasabi paste. During the grating process, the rhizome cell walls break down to release the wasabi kick to generate a fresh, pungent, zingy hot flavour. Remember, you can combine your freshly grated pale green wasabi paste with sushi and sashimi. This does not stop here, just added it to ice cream, chocolate or any of your favourite recipes. So, you order the right amount of wasabi rhizome 50 g will provide enough for six people for example with sushi. There are several ways to use freshly grated wasabi: just visit the recipes pages at wasabi crop. Also, the rhizomes can be stored easily for up to three weeks, remember to wrap them up individually using a damp cloth in which they will be dispatched in. Please store them in an open container which is not made of plastic or metal. The rhizomes need good air circulation and they should be rinsed in cold fresh water every 3 days or so to enable an extension of their shelf life.
Enjoy your fresh wasabi - providing new foods for your table!